Sign up to receive very useful wedding planning tips, advice and suggestions at Homemade Jam! Professional DJs website and instantly get their free report of 10 Wedding Insider Secrets.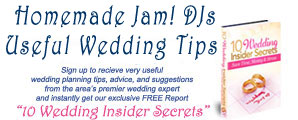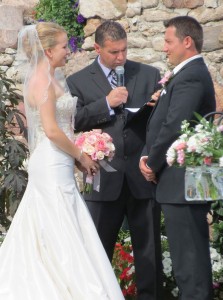 Homemade Jam! Professional DJ Service offers more than DJ services.
Wedding Ceremony – For your wedding ceremony, Homemade Jam will provide and play your personal music selections to make the occasion unique and special to you both.
Officiant – Gerri Humphries is licensed by the Registrar General to legally marry couples in the Province of Ontario.
Photo Booth – With MY WEDDING PHOTO BOOTH at your wedding, there will be excitement and fun inside and outside the booth for all to see, experience and enjoy!
Head Table Backdrops – The backdrops sheer and luxury fabrics can be draped in panels, hung with crystal or led curtains and tied back with beautiful rhinestone wraps. Add LED uplighting in your wedding colors and your head table will be breathtaking!
Chair Covers – White Ruched Chair Covers are High-end, elegant and sleek and are our most popular rental items.
Posted in
DJ Services
,
Peterborough Wedding Ceremony
,
Peterborough Wedding Promotions & Specials
,
Wedding Officiant
,
Wedding Photobooths
,
Wedding Tips
Tags:
Chair Covers
,
Head Table Backdrops
,
Homemade Jam! Professional DJ Services
,
Peterborough DJs
,
Photo Booths
,
Wedding Officiant