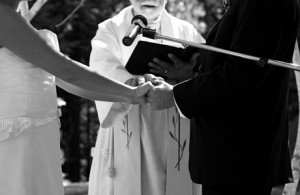 A couple makes a wedding. Not really. You need a third person to make it official: the officiant or minister or priest (religious). Whatever the title, it is best to shoot some hard questions before you settle with one for you Peterborough wedding.
Remember an officiant is important as he can make or break your wedding. In this regard, it is always best to do your homework before you get to decide. Here are major talking points.
1. Are you in a position to give us the ceremony we need?
There will be do's and don'ts in a ceremony. Find out early before it's too late – and you're all dressed-up. For instance, knowing if you can do your own vows is essential.
Same goes for the music details. Will a choir be acceptable? How about love songs?
2. How many years have you been an officiant?
Experience speaks volumes. You do not want to be dealing with a first-timer officiant who could be lost in translation the moment you pledge your vows.
3. Would you be flexible?
Some ministers or priests do not allow a wedding ceremony outside of their churches. Check with you officiant if this is the case. Other details may also be vital, like certain dress codes for instance.
You don't want to have to explain to your guests.
4. Do you have the credentials?
More than anything else, this is doubly important. A wedding ceremony done by somebody whose license has expired is null and void – good as it never happened.
5. How much?
There is no free lunch and there is no free officiant, unless he's your brother. Even though, you may still have to check with him as there could be payables mandated by the organization.
Posted in
Peterborough Wedding
,
Peterborough Weddings
,
Wedding
,
Wedding Officiant
,
Wedding Planning
Tags:
Peterborough wedding
,
wedding
,
Wedding Officiant