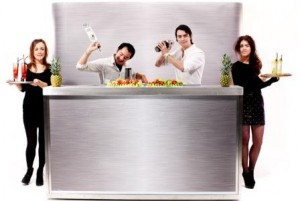 With more and more mobile bartending services up and about, to-be weds now have the option of having professional flair bartenders mix drinks for wedding reception guests, as well as entertain crowds with drinking games and flair bartending showdowns.
Often compared to the services offered by caterers, mobile bartending services take the standards of grand celebrations a notch higher, truly making occasions and festivities more memorable.
Mobile Bartending Services, in a nutshell
In calling for the services of professional flair bartenders, to-be weds can celebrate weddings with professionally mixed drinks, with mobile bartending services keen in seeing to the full swing of parties and celebrations.
Like most catering services, mobile bartending services work on an "all-in" premise, doing all the drinks and ingredients sourcing themselves, as well as the creation of drinks lists, drinks and ingredients volumes and estimates.
Going to where the celebrations are, a number of mobile bartending services actually bring "bars" with them, which they can setup in various venues, from hotel function halls to outdoor seaside settings.
Apart from simply mixing drinks, mobile bartending services also feature flair bartending exhibitions, with some even known to host wholesome drinking games, which essentially pegs them as occasion entertainers as well.
Some bartenders are known to even be entertainers themselves, known to match their flair bartending skills with song and dance acts.
If you feel that having good food is not enough for your wedding, there's no reason why you can't look into what mobile bartending services have to offer to you, in making your wedding celebration fun and memorable.
Posted in
Peterborough Wedding
,
Peterborough Weddings
,
Wedding
,
Wedding Planning
,
Wedding Tips
Tags:
Mixologists
,
Peterborough wedding
,
wedding
,
Wedding Mixologists