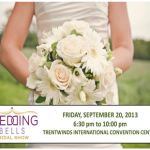 Peterborough area brides, if you are looking for inspiration and advice for your upcoming wedding, then come to the Wedding Bells show and talk with Peterborough's leading wedding professionals. Get all the information you'll need on wedding dresses, flowers and much, much more.
The Wedding Bells Show will be held at the Trentwinds International Convention Centre this Friday September 20th. Doors open from 6:30-10pm.
Tickets are $10.00 per person
So grab your wedding party and head on over the to Wedding Bells bridal show this Friday.
Posted in
In the News
,
Marriage
,
Peterborough Bridal Shows
,
Peterborough Wedding
,
Peterborough Wedding Events
,
Peterborough Wedding Photographers
,
Peterborough Wedding Show
,
Peterborough Weddings
,
Wedding
,
Wedding Event
,
Wedding Planning
,
Wedding Tips
Tags:
kawartha wedding shows
,
Kawarthas
,
Peterborough Wedding Show
,
wedding shows