For all those other moments missed by your photographer place a disposable camera at each table.  Disposable cameras are quite  inexpensive, check out our selection at HerWeddingShop.com.
Order them today and capture ALL those special moments on your wedding day.   You will agree the investment in the disposable cameras are priceless when viewing those pictures after your wedding.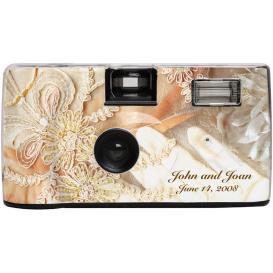 Antique Lace Wedding Camera, buy these at HerWeddingShop.com.
Place one these high-quality cameras at each table and let your guests capture those candid, might-have-been-missed wedding memories. A crystal clear shell accentuates the full color design which can be personalized with your names and wedding date. Each single-use camera arrives preloaded with 27 exposures of quality 400 ISO color film and a built-in flash.
Posted in
Peterborough Wedding Photos
,
Wedding Planning
,
Wedding Reception Decor
Tags:
HerWeddingPlanner.com
,
Wedding Reception Decor