You may have thought that shopping for your wedding dress was fun, but wait until you start shopping for your wedding jewelry.  There are so many different styles of wedding jewelry.  One piece of advice is the pay attention to the types of embellishments, if any, that are on the dress and match your jewelry to it.  For example if you have crystals on your wedding gown, wear crystals in your necklaces and any other pieces you deserve.  It will give you an elegant complete look to your wedding attire.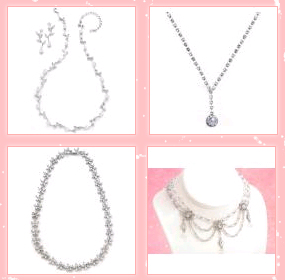 If the dress is heavily decorated with sequins and pearls, there is no need for more embellishment. However, if the dress is very plain and sophisticated, a small string of pearls or an elegant diamond pendant is an attractive choice and will complete the look beautifully.
If the dress is strapless and simple you will have numerous options for jewelry.  When you wear a strapless dress, it normally draws more interest to the shoulders and neck area.  Many brides take this opportunity to wear very large sparkly pieces.
Y- drop necklaces are a perfect blend with a v-neckline wedding gown.  Adds a simple yet stylish look.
Check out some of this year's hot pieces at HerWeddingShop.com!
Posted in
Peterborough Wedding Dresses
,
Peterborough Wedding Jewelry
,
Wedding Planning
Tags:
Peterborough Wedding Jewelry
,
strapless wedding dress
,
v-neck wedding dress
,
wedding dress embellishments